Metal Colors * Liquid Gold
Vallejo Metal Colour is a range of 18 water- based metallic colours, especially designed for airbrushing. In the development of this new and innovative range, the latest generation of aluminium pigments has been used in a specifically designed formula to produce colours of exceptional resistance and adherence to plastics and metal. Can be applied directly on models without the need for the use of a primer, although in the case of fuselages and components for airplane models it is recommended to first apply a glossy Black Primer to bring forth the unique and special quality of the aluminium finish.
Liquid Gold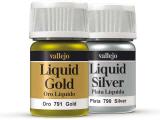 Couleurs métalliques brillantes fabriquées avec de vrais pigments métalliques dans une formule à base d'alcool qui se traduit par une finition métallique d'un réalisme et d'une permanence extraordinaires. Les couleurs peuvent être diluées avec de l'alcool, mélangées les unes aux autres pour obtenir d'autres variations de tonalité et sèchent rapidement sur toutes sortes de surfaces. Les brosses sont nettoyées avec de l'alcool ou avec le nettoyant pour pinceaux Vallejo (réf. 28.900). Liquid Gold est inflammable en raison de sa teneur en alcool, mais ne contient pas de xylène ni de toluène.
---