Ruderer SM L530 Glue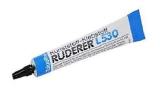 Low-viscosity, colourless, transparent glue for bonding together various types of plastic, including polystyrene, styrene-butadiene (SB), styrene-acrylonitrile (SAN), ABS, celluloid, acrylic (Plexiglas) and rigid PVC. It can also be used for bonding plastics to glass, ceramic, metal, wood, and many other materials.

Not suitable for use with polyethylene, polypropylene, PET, acetal (Delrin), Teflon or silicones.

Bonding surfaces must be clean, dry and free of oil and grease.

Apply the glue and bond immediately.

Clamp or secure adequately until glue has fully dried.