Metal Colors & Liquid Gold
Metal Colour is a range of 18 water- based metallic colours, especially designed for airbrushing. In the development of this new and innovative range, the latest generation of aluminium pigments has been used in a specifically designed formula to produce colours of exceptional resistance and adherence to plastics and metal. Can be applied directly on models without the need for the use of a primer, although in the case of fuselages and components for airplane models it is recommended to first apply a glossy Black Primer to bring forth the unique and special quality of the aluminium finish.
Liquid Gold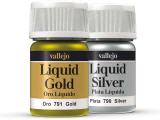 Brilliant metallic colors manufactured with actual metal pigments in alcohol based formula which results in a metallic finish of extraordinary realism and permanence. The colors can be diluted with alcohol, mixed with one another to achieve further variations of tonality and dry rapidly on all kinds of surfaces. Brushes are cleaned with alcohol or with the Vallejo Brush Cleaner (ref. 28.900). Liquid Gold is flammable due to its alcohol content, but does not contain xylene or toluene.
---