Water - Clear 2 x 50 ml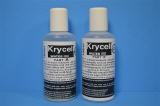 Add safe and easy to use realistic water effects to your model

Krycell WATER is as two part clear water thin liquid

- Non-Hazardous - No dangerous chemicals
- UV Resistant
- Cures without generating any dangerous heat or fumes
- Minimal Bubble Entrapment
- Cures perfectly clear - Looks just like water

Using Krycell WATER could not be more simple. Mix the two parts in equal measures into a container and mix together. Wait for 15-30 minutes and most of the air-bubbles will have risen to the surface. Pour into place and mix with snow powder to craete the effect you want. When you have done this most of the air bubbles will go before the water has set. If you want, you can easily burst remaining air bubbles. Leave at room temperature on a level place for 24 hours to set. Full hardness will be reached in 48 hours.