Smartphone
When using a smartphone; use the navigation button at the top !
MIG Productions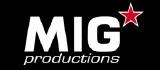 MIG Productions is opgericht in het midden van 2002. Het doel van MIG Productions was een enorme gat in de militaire modellenwereld op te vullen. Door het verstrekken van zowel mediums als hulpmiddelen kunnen eenvoudig realistische resultaten te krijgen met de afwerking van militaire modellen. MIG is overgenomen door AK Interactive
MIG Pigmenten
MIG, voor de beste kwaliteit
MIG pigmenten, voor weathering effecten zoals vervuiling, roest, vet en olie vlekken.
Ze zijn zowel los als in sets verkrijgbaar

De pigmenten zijn verkocht aan AK, dus op is op bij de pigmenten van MIG !


MIG Washes
Er zijn verschillende washes van MIG;
- Neutral Wash
- Brown Wash
- Dark Wash
- Standard Rust Efect Wash
- Light Rust effect Wash
- Wet Effect en Damp earth
- Oil and Grease Effect
- Rainmarks
- Cold Grey Wash
- Wainter Camouflag Wash
enz.
MIG Filters & Filter Sets
Er zijn vier verschillende filter sets van MIG;
- German Filter Set
- Allied Filter Set
- Africa Corps Filter Set
- Winter Filter Set

De filters potjes zijn ook los verkrijgbaar
DVD's van MIG
DVD's met diverse modelbouw onderwerpen;

Reeds beschikbaar;
DVD 01 - The pigments
DVD 02 - Modulation Style and Airbrush Techniques