Smartphone Users
When using a smartphone; use the navigation button at the top !
MIG Productions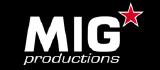 MIG Productions was founded in the middle of 2002. The purpose of MIG Productions was to fill. An enormous empty space in the world's military models By providing both mediums and tools easy to get realistic results with the completion of military models. MIG Productions has been sold to AK Interactive.
Pigments
MIG, voor de beste kwaliteit
MIG pigments for weathering effects such as pollution, rust, grease and oil stains.They are both separately and in sets available

Washes
There are several washes of MIG;

- Neutral Wash
- Brown Wash
- Dark Wash
- Standard Rust Wash
- Light Rust Wash
- Wet Effect en Damp Earth
- Oil and Grease Effect
- Rain Marks
- Cold Grey Wash
- Winter Camouflage Wash
etc.
Filters & Filter Sets
There are four different filter sets of MIG;
- German Filter Set
- Allied Filter Set
- Africa Corps Filter Set
- Winter Filter Set

The filters are also available as separat jars
DVD's
DVDs with various modeling issues;Already available;

DVD 01 - The pigments
DVD 02 - Modulation Style and Airbrush Techniques